The Earl in Peril (Barbara Cartland's Pink Collection 154)
Unabridged Audiobook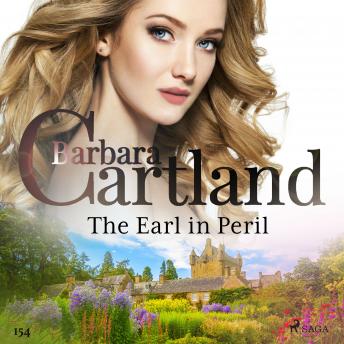 Duration:
4 hours 44 minutes
Summary:
Lorena Conway has devoted most of her life to being a secretary to her father, a noted historian. Sir Arthur suddenly dies and leaves Lorena with too little money to maintain her childhood home.
tWondering how she will survive, the beautiful Lorena overhears a friend of her neighbour plotting to kill the Earl of Bramfield, who has recently and unexpectedly inherited from his father and whose vast estates lie near her home.
tRealising that she has no option but to try and convince the Earl of the peril he is in, Lorena sets out to confront him.
tWhen his elder brother died, the new Earl had to give up an Army career and return home. Now having inherited the title and estates, he is finding it difficult to adjust to his new position.
tHe sees Lorena and listens to her tale, but cannot accept that his life is in danger.
tHowever, he offers Lorena a temporary job helping him to sort out his disorganised office and she brings her newly invented typewriter with her.
tSoon the Earl realises that the danger is very real and Lorena finds herself having to use all her wits to keep safe the man she rapidly becomes attracted to in a way that she never expected.
tThen the Earl's younger brother, the Honourable Andrew, arrives home and life at Bramfield becomes ever more complicated and perilous.
t
-
Barbara Cartland was the world's most prolific novelist who wrote an amazing 723 books in her lifetime, of which no less than 644 were romantic novels with worldwide sales of over 1 billion copies and her books were translated into 36 different languages. As well as romantic novels, she wrote historical biographies, 6 autobiographies, theatrical plays and books of advice on life, love, vitamins and cookery. She wrote her first book at the age of 21 and it was called Jigsaw. It became an immediate bestseller and sold 100,000 copies in hardback in England and all over Europe in translation. Between the ages of 77 and 97 she increased her output and wrote an incredible 400 romances as the demand for her romances was so strong all over the world. She wrote her last book at the age of 97 and it was entitled perhaps prophetically The Way to Heaven. Her books have always been immensely popular in the United States where in 1976 her current books were at numbers 1 & 2 in the B. Dalton bestsellers list, a feat never achieved before or since by any author. Barbara Cartland became a legend in her own lifetime and will be best remembered for her wonderful romantic novels so loved by her millions of readers throughout the world, who have always collected her books to read again and again, especially when they feel miserable or depressed. Her books will always be treasured for their moral message, her pure and innocent heroines, her handsome and dashing heroes, her blissful happy endings and above all for her belief that the power of love is more important than anything else in everyone's life.
Genres: