Easy Learning Greek Audio Course: Language Learning the easy way with Collins
Unabridged Audiobook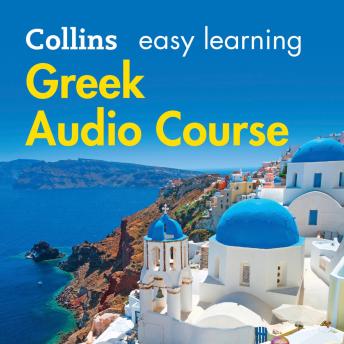 Duration:
3 hours 37 minutes
Summary:
The Easy Learning Greek course is the perfect language learning course for holidays and business trips abroad.


The accompanying booklet is also available at: collinsdictionary.com/resources.




- Easy to use – learn Greek quickly and with confidence

- Easy to follow – listen, speak Greek and learn

- Easy to learn – Greek grammar made simple



Easy Learning Greek teaches you key words for the most important situations and lets you expand your language through a variety of activities. You choose whether to focus on learning the essentials or to progress to some more challenging activities – so whether you're a beginner, or you want to refresh and build upon your existing knowledge, you can become confident in Greek without even having to pick up a pen.


Download the accompanying booklet from www.collinslanguage.com/easy-learning-audio-courses


Topics covered:


Unit 1: Hello
Unit 2: Excuse me
Unit 3: Where's the bar?
Unit 4: Over there
Unit 5: What will you have?
Unit 6: Do you have..?
Unit 7: Do you know where the Metro is?
Unit 8: I want to go to…
Unit 9: Do you have a room?
Unit 10: It hurts
Unit 11: I want to make an appointment
Unit 12: I like it!
Genres: