Economic Consequences of the Peace
Unabridged Audiobook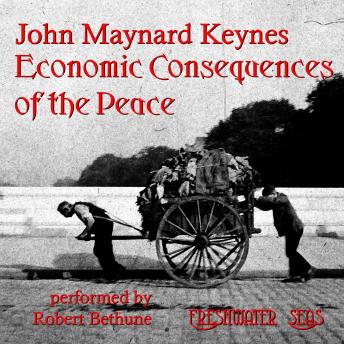 Duration:
7 hours 49 minutes
Summary:
John Maynard Keynes died in 1946, but his name is still one to conjure with in economics and politics worldwide. Although his contributions to economic theory established and maintain his fame, he also--particularly at the time in his life when he wrote the present book, Economic Consequences of the Peace--showed a flair for practical political work on the basis of economics in his work with the Royal Commission on Indian Currency and Finance.

At the outbreak of World War I, he began working with the British Treasury|in January 1915 he took up an official position there. At the end of the war he was appointed as the British Treasury's representative to the Versailles Peace Conference. His experiences at the Conference formed the basis of this book. In short, he was so disgusted with the resulting treaty that he resigned his post.

This is not a theoretical text. It is a data-driven study of the consequences that must follow if the provisions of the Treaty of Versailles were put into full effect. To the extent that they were|Keynes was largely proven right|to the extent that they were ignored, delayed, or abrogated altogether, Keynes was also proven right: such measures were never put in practice because they were impossible.

Beyond pratical economics and politics, his book is also a clear call for intelligent magnanimity in politics, both in peace and in war. His vision is of a world at peace in which the prosperity of each nation contributes to the prosperity of all people. He clearly demonstrates the practical working of that vision in his analysis of the disasters that would happen if the effort to rebuild war-torn Europe proceeded on a punitive basis versus the positive results of proceeding on a basis not of enmity, but of equity.

In order to avoid forcing the reader to listen to long recitations of numeric tables, there are small abridgements at a few points in the book. However, no substantial text has been removed and Keynes' arguments and methods of analysis remain intact. This is economics|there are some places where the numerical facts get a little dense, but Keynes succeeds in keeping his argument clear even when the going gets heavy.

Enjoy! A Freshwater Seas production.
Genres: