The Economists' Diet: Two Formerly Obese Economists Find the Formula for Losing Weight and Keeping It Off
Unabridged Audiobook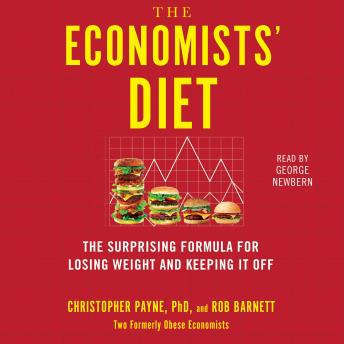 Duration:
6 hours 37 minutes
Summary:
A bold and sensible new behavioral approach to dieting—driven by economic principles— that recommends micro-habits and meta-rules to help control impulses to overeat, approach food in a healthier way, and lose weight once and for all.

Christopher Payne and Rob Barnett are two formerly obese economists who met while working at Bloomberg. They faced the same problems that so many others face today: long hours, frequently eating out for lunch and dinner, and snacking out of boredom. When they finally lost weight by applying what they know best—economics—to their waistlines. By carefully considering economic theories, real-world data, and their own personal experiences, they developed behavioral best practices that helped them control their impulses to overeat and approach food in a healthier way.

Full of Barnett and Payne's personal weight-loss stories, The Economists' Diet is a practical guide that explains how to control those ever-present impulses to overeat and, in the process, lose weight and keep it off. It is "[a] uniquely themed and user-friendly guide" (Publisher's Weekly), and "full of advice [that] makes a lot of sense and is habit-forming (Charles Duhigg, bestselling author of The Power of Habit).
Genres: