Een Gift Van Wapens (Boek #8 In De Tovenaarsring)
A free trial credit cannot be used on this title.
Unabridged Audiobook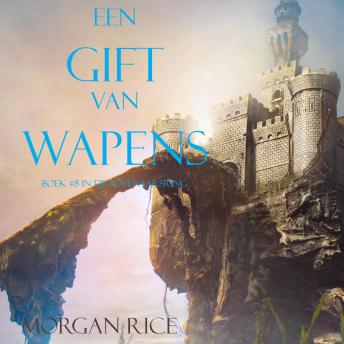 Duration:
6 hours 12 minutes
Language:
Dutch; Flemish
Summary:
In EEN GIFT VAN WAPENS (Boek #8 in de Tovenaarsring), zit Thor gevangen tussen de titanische krachten van goed en kwaad, terwijl Andronicus en Rafi al hun duistere krachten gebruiken in een poging om Thors identiteit te vernietigen en de controle over zijn ziel te krijgen. Bevangen door hun magie moet Thor het zwaarste gevecht van zijn leven strijden, terwijl hij worstelt om zichzelf uit de greep van zijn vader te bevrijden. Maar het is misschien al te laat.

Gwendolyn, vergezeld door Alistair, Steffen en Aberthol, reist diep de Onderwereld in, vastberaden om Argon te vinden en hem uit zijn magische gevangenis te bevrijden. Ze ziet hem als haar enige hoop om Thor te bevrijden en de Ring te redden, maar de Onderwereld is groot en verraderlijk, en het lijkt erop dat ze Argon nooit zullen vinden.

Reece leidt de Krijgsmacht op een vrijwel onmogelijke missie om te doen wat nog nooit eerder is gedaan: afdalen in de dieptes van het Ravijn om het verloren Zwaard terug te vinden. Terwijl ze afdalen in een wereld vol monsters en exotische rassen, is elk van hen vastberaden om het Zwaard te houden voor hun eigen doelen.

Romulus, gewapend met zijn magische mantel, vervolgt zijn sinistere plan om de Ring te betreden en het Schild te vernietigen; Kendrick, Erec, Bronson en Godfrey moeten vechten tegen het verraad; Tirus en Luanda leren wat het betekent om hun volk te verraden en Andronicus te dienen; Mycoples worstelt om te ontsnappen; en in een schokkende plotwending, wordt Alistairs geheim eindelijk onthult.

Zal Thor zichzelf terugvinden? Zal Gwendolyn Argon vinden? Zal Reece het Zwaard vinden? Zal Romulus' plan slagen? Zullen Kendrick, Erec, Bronson en Godfrey overwinnen? En zal Mycoples terugkeren? Of zal de Ring volledig verwoest worden?

EEN GIFT VAN WAPENS is een episch verhaal van vrienden en geliefden, rivalen en minnaars, ridders en draken, intriges en politieke machinaties, van volwassen worden, van gebroken harten, van bedrog, ambitie en verraad. Het is een verhaal van eer en moed, van lotsbestemming en tovenarij. Het is een fantasie die ons meeneemt naar een wereld die we nooit zullen vergeten, en die alle leeftijden zal aanspreken.
Genres: