Emanuel's Heat: A Rescue 4 Novel
Unabridged Audiobook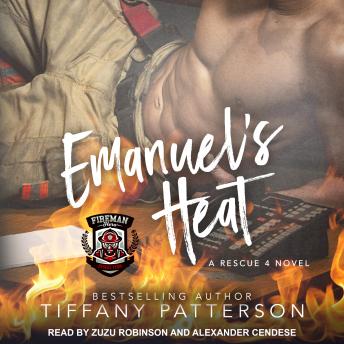 Duration:
8 hours 33 minutes
Summary:
Janine: I walked right into him outside my hotel room while on vacation. Somehow that turned into my spending the following three days in Cabo San Lucas with him. Emanuel, the firefighter and obvious heart breaker. But I don't have time for love. Not anymore, after a recent break-up, career change, and relocating to a new city. The last thing I need is to get involved with a man who's just not right for me. I've been strung along enough. So, I give Emanuel a fake name, thinking at the end of my time in Mexico I'd never see him again. How wrong I was.

Emanuel: Her name's Janine, not Nadine as she'd told me in Mexico, and she's my new neighbor. It's like the stars align, pushing us together. In spite of the push back on her part, I know we're meant to be. Steadily, I wear her down, breaking through the fears and insecurities her past has given her, showing her that I'm not the man of chaos I once was known as. And while my recent transfer to a new firehouse is going well, there are some lingering secrets that pose a threat not only to myself but the new woman in my life. When everything seems to finally be coming together for us, her past and the lingering threat to Rescue Four threaten to tear us apart.

Contains mature themes.
Genres: