End Game: A Dirty Money Novel
Unabridged Audiobook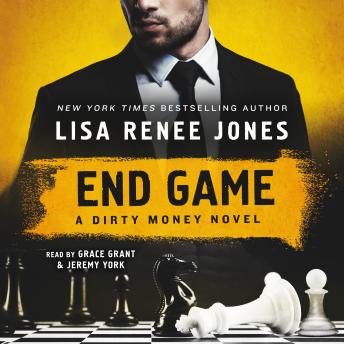 Duration:
7 hours 47 minutes
Summary:
Listeners have been begging for the final installment in Lisa Renee Jones' Dirty Money Series, and now it's finally here! End Game is a steamy, addicting audiobook that listeners won't soon forget.
How deep can you love?
Passion and danger collide in the explosive finale to Emily and Shane's story.
After tragedy strikes, Shane hovers on the edge of being consumed by darkness. He will fight for the woman he loves. He will destroy his enemy. He will not back down. As shocking twists, dark secrets, and explosive betrayals within the Brandon family come to the light, Shane must fight harder than ever before.
Every thread weaves a dangerous web. Emily and Derek. Brandon Senior. Maggie and her affair. The leader of the dangerous cartel who's wedged itself inside the Brandon Empire. It all comes to a head in the shattering conclusion to the Dirty Money series.
Genres: