Enneagram, Astrology and Numerology.: Definitive guide to analayze people. Learn how zodiac signs and charts influence you and your relationships. Fundamentals of wiccan religion and tarot reading.
A free trial credit cannot be used on this title.
Unabridged Audiobook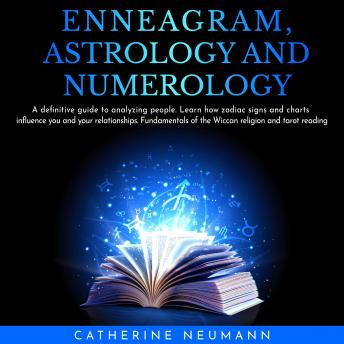 Duration:
9 hours 12 minutes
Summary:
- Are you Curious on how to transcend from the suffering caused by your own Mechanistic Thought and Behavioural Patterns.
- Are you worried on your Soul and Relationship.
- Are you having difficulties in tuning to the Right Spirits & Power and got stuck on a Magical Journey of Discovery.

In this book:


- Enneagram teaches how to determine which point represents ones personality.
- It descidbes how we change when we feel secure or stressed, and how we move between different selves in different contexts.
- It enable one to overcome one's fault and also to overcome one's.strength.
- AN (Astrology and Numerology), teaches how Zodiac Signs, houses and charts influence ones Soul and Relationships.
- It help find out how Pseudoscience Signs are gift on a person's Astrological Chart at the time birth.
- It enable one to Figure Out One's sort of Relationship.
- WICCA offers a handy shorthand of some symbols which are Historical Accurate to tune into the Right Spirits and Power.
- It gives an idea of the General feel of the Spiritual Choice and hopefully get one started on a Magical Journey of Doscovery.
- It gives a Basic Overview to some of the main key areas of the Wccan way of life.

To get this 3- In- One Easy -to- Read and Comprehend, Self-Help, Step-by-Step Strategies and Motivational Book, Click "Add to Cart Button" right now and Order for yours today.
Genres: