Eric's Inferno: A Rescue 4 Novel
Unabridged Audiobook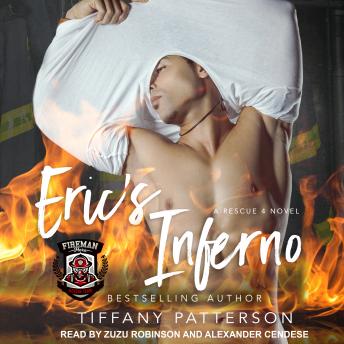 Duration:
6 hours 59 minutes
Summary:
The men of Rescue Four are known for two things: for being the best the Williamsport Fire Department has to offer and for their rugged sex appeal. Rescue Four's reputation is carried like a badge of honor among all the men, including Eric 'Harvard' Kim. Eric is the unofficial leader of the Rescue Four squad and with his quiet yet appealing demeanor he definitely lives up to his squad's playboy ways with the women. That is, until a certain bar owner catches his eye. Eric is hit with a desire so intense and overwhelming he can do little about it except submit to the inferno his desire sparks.

Angela Moore is having the time of her life, having opened her neighborhood bar, Charlie's, a year and a half ago. Neatly positioned between two fire stations, Charlie's is a frequent stop for the firefighters in her city and the women who love to chase after them. Growing up the daughter of a firefighter and the younger sister of one, Angela thought she was immune to their charms, until she finds herself in the cross hairs of Eric's. With eyes as dark as sin and a body built for pleasure, Angela finds herself opening up to Eric unlike anyone she ever has before. Just when the couple think they've made it, tragedy strikes, leaving them wondering if one will even survive.

Contains mature themes.
Genres: