Escalante's Dream: On the Trail of the Spanish Discovery of the Southwest
Unabridged Audiobook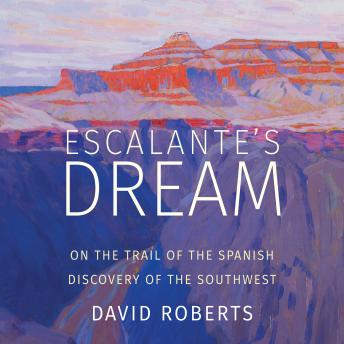 Duration:
11 hours 29 minutes
Summary:
Famed adventure writer David Roberts retraces the route of the legendary Dominguez-Escalante expedition.

In July 1776 a pair of Franciscan friars, Francisco Atanasio Dominguez and Silvestre Velez de Escalante, were charged by the governor of New Mexico with discovering a route across the unknown Southwest to the new Spanish colony in California. They had other goals as well, some of them secret: converting the indigenous natives along the way to the true faith, discovering a semi-mythical paradise known as Teguayo, hunting for sources of gold and silver, and paving the way for Spanish settlements from Santa Fe to Monterey.

In strict terms, the expedition failed. Running out of food and beset by an early winter, the twelve-man team gave up in what is now western Utah. The retreat to Santa Fe became an ordeal of survival. The men were reduced to eating their own horses while they searched for a crossing of the raging Colorado River in Glen Canyon. Seven months after setting out, Dominguez and Escalante staggered back to Santa Fe. Yet in the course of their 1,700-mile voyage, the explorers discovered more land unknown to Europeans than Lewis and Clark would encounter a quarter-century later.
Genres: