Escape Artist
Unabridged Audiobook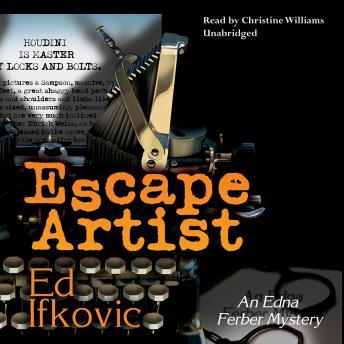 Duration:
8 hours 51 minutes
Summary:
In 1904, the future bestselling writer Edna Ferber, then a nineteen-year-old fledgling reporter in Wisconsin, teams up with famed escape artist Harry Houdini to solve the baffling murder of a girl who has mysteriously disappeared from a locked room at the local high school.
Edna Ferber is a reporter for the Appleton, Wisconsin, Crescent, an occupation that many townspeople, including her own family, consider scandalous for a proper young girl.
It's a troubling summer for her. Her home life is in disorder, though she is dedicated to her blind father. Her mother and sister dislike her walking the streets as a reporter. Even the newsroom has become a hostile environment, with a new city editor determined to undermine her. Then she gets to interview the famous escape artist Harry Houdini, who is in town visiting old friends. Houdini, as Ehrich Weiss, spent his boyhood years in the small town.
When Frana Lempke, a beautiful young German high school girl, disappears and is soon discovered murdered, the unusual crime baffles the local police because Frana mysteriously disappeared from a locked room at the high school.
Edna asks Houdini for help in solving the murder. Houdini takes a liking to Edna and agrees to help. But as Edna pursues the story, alienating any number of people, she senses that she is being followed. Piecing together the clues, she comes to see that her own life in the small town is unraveling. As the future bestselling writer starts to solve the crime, she understands that her involvement will impact her life forever.
Genres: