Escape to Phnom Penh: Book 1 of 'Hot Asian Nights'
A free trial credit cannot be used on this title.
Unabridged Audiobook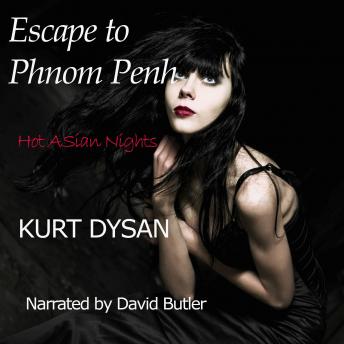 Duration:
1 hours 18 minutes
Summary:
Phnom Pehn, the Pearl of the Orient, is known for its nightlife and fast times. Sara and Gina have left Australia, along with husbands and lovers, looking for some of that adventure. SE Asia is an acquired tasted, but they find the parties and hot guys wonderfully addition. And here, where no one knows them, there seem to be no rules at all.

~~~~~ PG Excerpt ~~~~~

A bright sun shone clear and warm on Sara's first morning in Cambodia's capitol. It was so different from Australia where she'd been just a few hours and a lifetime ago. So far, she liked what she saw. 'The Pearl of the Orient,' the guidebooks called the city. The pearl didn't shine with as much luster as she'd expected, but it was interesting and different—and alive.

The rest of the tables were empty. A girl stood inside, out of the sun, watching a game show on television. The girl was a petite Khmer, Cambodian, and at first Sara had taken her for a teenager. None of the girls Sara had seen in the short time since she'd arrived looked old enough to be called young women, but she'd learned they were—Khmer women looked young well into life. She assumed it was one major reason so many men traveling alone came here. It seemed that depravity craved innocence.
Genres: