Ethan & Wyatt
Unabridged Audiobook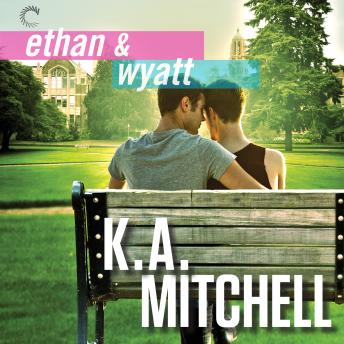 Duration:
10 hours 18 minutes
Summary:
Fall in love with Ethan & Wyatt in bestselling author K.A. Mitchell's male/male trilogy, now available for the first time in audio.

Getting Him Back

Ethan may have followed his high school sweetheart to college only to get dumped his first day there, but that won't stop him from exploring his new life. Things start looking up when he meets Wyatt, who's mysterious, grouchy, hot—and possibly not gay. When their friendship deepens into something neither expects, Ethan has a new challenge: convince Wyatt this isn't just a pity fling but something more serious.

Boyfriend Material

Physically, it's easy for Ethan and Wyatt to be together—sort of. Privacy is hard to come by in a dorm, but finding ways to connect is half the fun. Emotionally, though, Wyatt isn't sure if a relationship is something he can make last—years of hiding his emotions have left him with shaky self-confidence. And when it's time to head home for the holidays, their steamy on-campus connection may not translate so well to the real world…

Relationship Status

Life doesn't come with a syllabus. Together, Ethan and Wyatt are getting the hang of real life when a new responsibility for Wyatt throws everything off balance. Ethan's doing everything he can to prove he's in this forever while Wyatt is torn between a future with Ethan and a debt to the past. Too bad they didn't cover this in college.
Genres: