Expert Secrets – Self-Discipline & Time Management: The Ultimate Guide to Develop Daily Habits, Emotional Control, Focus, Mental Toughness, Self-Confidence, and Willpower
Unabridged Audiobook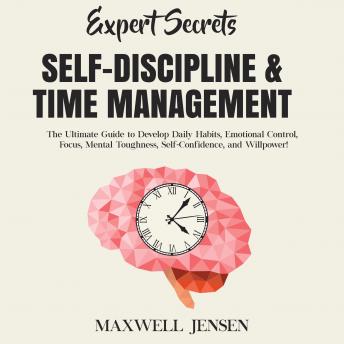 Duration:
2 hours 27 minutes
Summary:
Would you like to:

- Be more mentally tough, disciplined, and persistent?

- Use good habits to lose weight or accomplish your goals?

- Finally stop procrastinating and overcome laziness?

Yes? This audiobook will set you on the path to productivity and success!

When you look at high-power professionals, you probably wonder where do they get the time to be so successful. After all, we are all humans, but how did they accomplish so much? For most people, getting through three tasks on your to-do lists counts as a successful day.

So what's the difference? Is it just willpower, or is there something to be said about time management as well?

The first thing is always the mindset. You need to stop thinking of yourself as lazy and become proactive about your time. No one is born mentally tough - this is something we all need to develop. The good news? This audiobook will give you the strategies and advice to build self-discipline and establish new habits.

Here's what you'll learn in this 2-in-1 self-help mastery audiobook:

- Self-Discipline: What it means to be mentally tough, how to stop your emotions from ruining your concentration, best ways to stay consistently focused on your goals

- Time Management: The secrets to help you stop addiction, quit bingeing on food and TV, overcome procrastination, and become a proactive go-getter

- Daily Habits: Understand how habits are formed, why your life is shaped by your current habits, and how to set up new habits for success

- Productivity: Learn how to leverage your skills and knowledge to become more productive and accomplish more in less time

Once you develop bulletproof willpower, everything in your life will change. Are you ready?

Scroll up and Start Listening NOW!
Genres: