The Fall of the House of Bush: The Untold Story of How a Band of True Believers Seized the Executive Branch, Started the Iraq War, and Still Imperils America's Future
Abridged Audiobook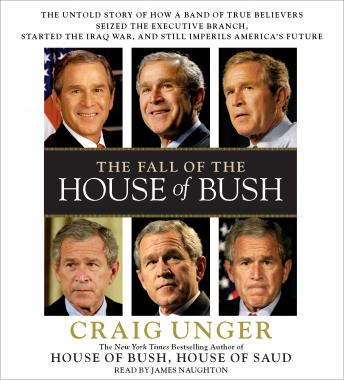 Duration:
6 hours 24 minutes
Summary:
How Did This Happen?

The presidency of George W. Bush has led to the worst foreign policy fiasco in the history of the United States -- the bloody, unwinnable war in Iraq. Bush's fateful decision was rooted in events that began decades ago, and this story has never been fully told, until now.

From Craig Unger, the author of the bestseller House of Bush, House of Saud, comes a comprehensive, deeply sourced, and chilling account of the secret relationship between neoconservative policy makers and the Christian Right, and how they assaulted the most vital safeguards of America's constitutional democracy while pushing the country into the catastrophic quagmire in the Middle East that is getting worse day by day.

Craig Unger knows how to get the big story -- and this one is his most explosive yet. Through scores of interviews with figures in the Christian Right, the neoconservative movement, the Bush administration, and sources close to the Bush family, as well as intelligence agents in the CIA, the Pentagon, and Israel, Unger has assembled the most comprehensive, provocative, and dramatic account of how and why George W. Bush took America to war in Iraq.
Genres: