Fathers and Sons
Unabridged Audiobook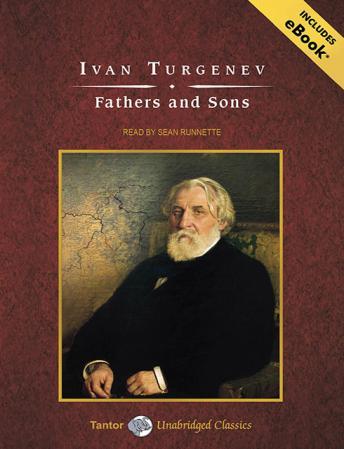 Duration:
8 hours 30 minutes
Summary:
When Arkady Petrovich comes home from college, his father finds his eager, naive son changed almost beyond recognition, for the impressionable Arkady has fallen under the powerful influence of the friend he has brought with him. A self-proclaimed nihilist, the ardent young Bazarov shocks Arkady's father by criticizing the landowning way of life and by his outspoken determination to sweep away traditional values of contemporary Russian society.

Turgenev's depiction of the conflict between generations and their ideals stunned readers when Fathers and Sons was first published in 1862. But many could also sympathize with Arkady's fascination with its nihilist hero, whose story vividly captures the hopes and regrets of a changing Russia. Fathers and Sons is a brilliant work that captures the tension that existed among generations and class in the prerevolutionary era in Russia.

This version of Fathers and Sons is the translation by Constance Garnett.
Genres: