FBA Product Sourcing Blueprint: How to Find, Evaluate, and Hire the Best Suppliers at the Best Prices for Your Fulfillment by Amazon Business
A free trial credit cannot be used on this title.
Unabridged Audiobook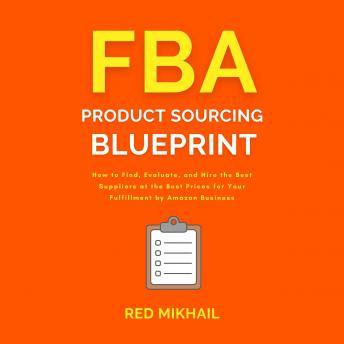 Duration:
1 hours 0 minutes
Summary:
Want to learn how to find, evaluate, and hire the best suppliers for your Amazon FBA Business? Learn how to avoid losing thousands of dollars on a potentially wrong order and a wrong supplier.

In this book, we are going to focus our attention on finding suppliers, negotiating the best prices, shipping our products and making sure that it reaches Amazon's fulfillment center so we can start selling it on Amazon.com as soon as possible.

Here's a preview of what you'll discover:


- The 12 point criteria to use in evaluating suppliers... so you'll know if they are legit or not
- 5 easy to apply methods of finding suppliers
- Exactly what to look for in a supplier + a cheat sheet you can use before you make your first order
- How to negotiate for the best prices by using numbers and logic
- The exact message I send to suppliers the first-time I approach them... get this one wrong and you'll look like a noob to their eyes
- How the shipping process works from A-Z
- How to ship your products directly to Amazon's warehouse (step by step with screenshots)
- The best shipping options available and what to pick depending on your goals and financial situation
- FBA barcodes, fees, and other expenses you should be aware of
- 9 of the best tips that I can give when it comes to working with suppliers so you can build a long term WIN-WIN relationship

One of the best ways to increase profit margin is to work with the right supplier.

Invest in this guide and avoid the same mistakes most beginner e-commerce entrepreneurs make.

GET YOUR COPY TODAY.
Genres: