Felonious Jazz
Unabridged Audiobook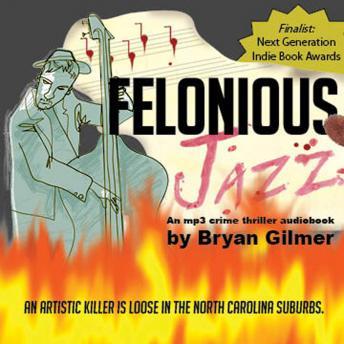 Duration:
6 hours 39 minutes
Summary:
Jeff Davis Swaine digs up evidence for a Raleigh, North Carolina, trial law firm. When a client comes home to find his McMansion burglarized -- and his new wife's dog dead in the kitchen -- the man suspects his ex-wife. But this is someone far more dangerous.

From a stolen minivan, washed-up jazz bassist Leonard Noblac is performing his "perfect jazz album of felonies" to punish the zeros in the soulless suburb of Rocky Falls. He composes a series of musical compositions and meticulously plans out symbolic crimes to go along with each one, believing the notoriety from his crimes will finally make him famous for his music.

Used to working from the shadow at the back of the stage, and bitter from his failure to make it in the New York jazz world and his move to the suburbs, Leonard puts down a throbbing beat of crime and destruction. As Leonard's crimes give voice to his rage, he finds himself able to improvise like never before, with terrifying results. Jeff must find Leonard and save the teenager and newborn he has kidnapped before the musician can write them into the fiery crescendo of Leonard's album.
Genres: