Fight For Your Money: How to Stop Getting Ripped Off and Save a Fortune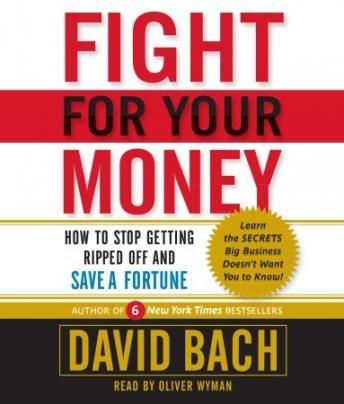 Duration:
6 hours 25 minutes
Summary:
In an audiobook that will forever change how you spend your hard-earned money, America's favorite financial coach, David Bach, shows you how to save thousands of dollars every year by taking on the "corporate machines." In these times when every dollar counts, big businesses are using clever tricks to rip you off, making themselves billions while they keep you living paycheck to paycheck. In Fight for Your Money, Bach gives you the tools to FIGHT BACK and WIN.

Fight for Your Money shows how you are being taken on your cell phone contract, cable bill, car purchase, credit card, life insurance, healthcare, 401(k) plan, airfare, hotel bills, and much more. When you know how the system is rigged–the extra points, the hidden fees, the late charges, the unused tax breaks, the escalating rates–you can fight back against the pickpockets and save literally thousands every year.

David Bach knows that when you are being taken financially, you work harder than you have to, for longer than you need to. This audiobook helps you fight for your money so you can live your life doing what you really want to do.
Genres: