Financial Reckoning Day Fallout: Surviving Today's Global Depression
Unabridged Audiobook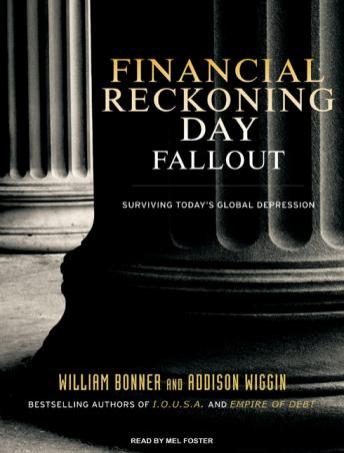 Duration:
17 hours 0 minutes
Summary:
When the first edition of Financial Reckoning Day was published more than six years ago, many critics felt that maverick financial writers Addison Wiggin and William Bonner were overly critical of the United States' increasing debt and the start of what seemed to be the foreshadowing of economic concerns. Fast-forward to 2009, and much of what the authors predicted has come true-high unemployment rates, record-setting foreclosures and bankruptcies, and the nearly global collapse of the financial institutions once thought to be so secure.

With this updated edition, Financial Reckoning Day Fallout, Wiggin and Bonner bring you even more down-to-earth wisdom. This timely guide reveals that the hazards of democratic consumer capitalism and the financial follies of history are not a thing of the past but an ongoing issue with no end in sight. With this book, you'll gain a better perspective of what's really going on and discover the steps you need to take to survive the difficult times ahead.

Honest and accurate, Financial Reckoning Day Fallout offers you the best chance to protect your assets and grow your portfolio in these difficult financial times.
Genres: