A Fine Red Rain
Unabridged Audiobook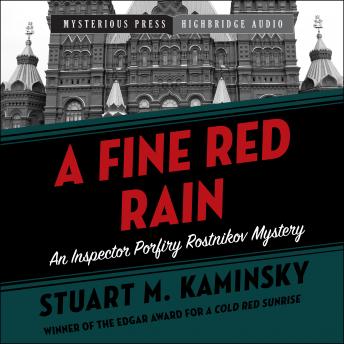 Duration:
7 hours 34 minutes
Summary:
Tension runs high as a Moscow cop investigates murder under the big top-from the Edgar Award-winning 'Ed McBain of Mother Russia' (Kirkus Reviews).

Porfiry Rostnikov was one of the top detectives in Moscow-until he crossed the KGB. On the orders of the secret service, this bulldog cop is busted down to the minor crimes unit, where his talents are utterly wasted. When a drunk climbs the statue of Nikolai Gogol in Arbat Square and threatens to kill himself, Rostnikov tries to talk the man down. But with a perfect somersault, acrobat Valerian Duznetzov leaps from the statue-the final jump of a storied career.

Across town, Duznetzov's partner, Oleg, practices his trapeze routine high above the circus floor. After letting go of the bars and going into a perfect double flip, Oleg falls, expecting the net to catch him. But the net has been sabotaged, and Oleg dies. As Rostnikov digs into this strange pair of deaths, he finds dark secrets inside the Moscow circus-secrets sure to grab the attention of his old friends at the KGB.
Genres: