First Bite
Unabridged Audiobook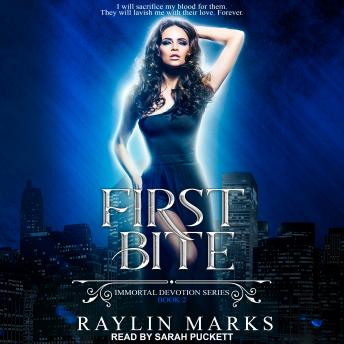 Duration:
5 hours 31 minutes
Summary:
My blood was just the beginning of their love, lust, and eternal loyalty.

With the help of the four sexy Banner cousins, Elle has learned to accept the supernatural . . . and so much more.

Her love grows stronger with each touch, kiss, and when they feed off her. Elle's blood not only gives the four gorgeous men strength, it's helping to seal their supernatural bond between her and her vampires.

Except one. Cole Banner has changed entirely, and Elle knows she has to win the final vampire over in order to seal their bond. A bond that will give them the power to take on their powerful enemy.

With Cole finally coming around, a new problem arises leaving everyone in confusion. Elle's father is not who anyone expected, and now the tables are turning as a new enemy advances on the five.

Will Elle and the four Banners seal their bond? If they do, is their love and bond more powerful than an ancient enemy that can tear them all apart and destroy their love for each other?

Contains mature themes.
Genres: