First Blood
Unabridged Audiobook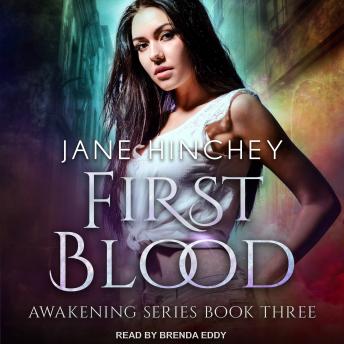 Duration:
5 hours 33 minutes
Summary:
Georgia Pearce is with child, carrying a baby destined to begin the next generation of powerful witches. As if a mysterious prophecy and a new (dysfunctional) family wasn't enough to deal with, all of Georgia's hard work to rebuild her coven is ruined when witches start vanishing.

Georgia investigates, only to find that the kidnapper has ties to her lover Zak Goodwin, and is more family than foe. He has big plans to turn the planet into heaven on earth, though his idea of heaven resembles hell more than paradise. The only one standing in his way? Georgia.

As she fights to bring this dark angel down, she dives deeper and deeper into Zak's forgotten past. The romance between them sparks and ignites, only to explode into a fire no one sees coming. Even Georgia's powers aren't enough to stop the evil that seeks to destroy her and her child. Has her magic finally met its match?

Contains mature themes.
Genres: