Five Detective Stories by Ernest Bramah
Unabridged Audiobook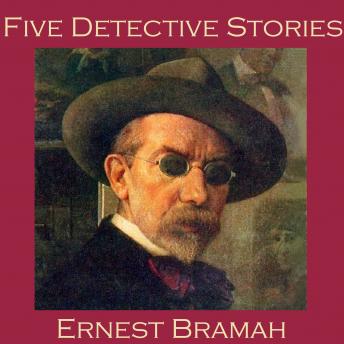 Duration:
5 hours 30 minutes
Summary:
Ernest Bramah (1868-1942) was an English author of 21 novels and numerous short stories and features. His humorous works have been ranked with Jerome K. Jerome and W. W. Jacobs, his detective stories with Conan Doyle, his politico-science fiction with H. G. Wells, and his supernatural stories with Algernon Blackwood.

In his stories of detection, Bramah hit on the idea of a blind detective, Max Carrados, whose triumphs are all the more amazing because of his disability.

This collection features five of Max Carrados\'s most puzzling cases: \"The Curious Circumstances of the Two Left Shoes\", \"The Game Played in the Dark\", \"The Last Exploit of Harry the Actor\", \"The Comedy at Fountain Cottage\", and \"Who Killed Charlie Winpole?\"
Genres: