Flip: How to Turn Everything You Know on Its Head---And Succeed Beyond Your Wildest Imaginings
Unabridged Audiobook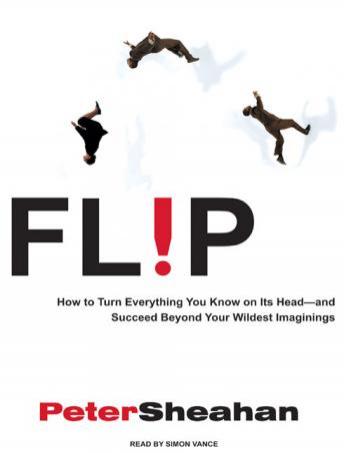 Duration:
8 hours 0 minutes
Summary:
'Business today requires new perspectives,' argues Peter Sheahan, one of the youngest and fastest-rising international consultants. In Flip, he shows that to succeed in a small-world economy, companies must distinguish themselves by finding a new way of doing business, one that systematically reexamines every single aspect of running a company.

Flip reveals what the superstars of modern business have in common: an ability to 'flip'-to think counterintuitively and then act boldly, with no regard for business-as-usual conventions. The only rule: there are no rules. Those who heed his proven advice will be well placed to join other 'flipstars,' including entrepreneurs Richard Branson and Rupert Murdoch and such visionary corporations as Google, Toyota, and Apple. But those who run with the pack and stick to the business school curriculum will find themselves perilously left behind.

Presenting perennial wisdom in a fresh new way, Sheahan teaches today's decision makers how to embrace change and successfully operate in an economy that runs on new ideas.
Genres: