Floor Four: A Novella of Horror
A free trial credit cannot be used on this title.
Unabridged Audiobook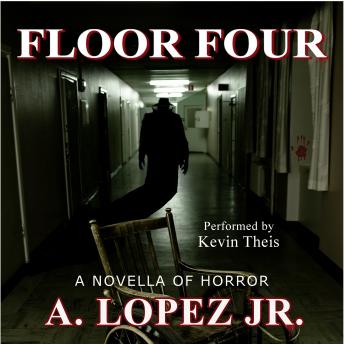 Duration:
3 hours 7 minutes
Summary:
An old abandoned hospital haunted by the ghost of a serial killer. A group of friends too curious for their own good. An old man hiding a secret.

The old and vacant Saint Vincent Hospital is said to be haunted by the ghost of David Henry Coleman, the notorious serial killer known as The Mangler. Coleman died on the fourth floor after being shot by police. For Brandon and his friends, their curiosity gets the best of them as they explore the dark halls despite 'Old Man' Jake's warnings. No one knows of Jake's past connection to the serial killer and the hospital.

Now, on the anniversary of The Mangler's death, a group of high school kids are planning a private party on the haunted fourth floor. Jake must keep everyone out and protect them from the true evil that lurks on Floor Four, while Brandon falls deeper into the Mangler's supernatural world.

If you like your scares with a twist of the twilight zone, then you'll love Floor Four's take on the supernatural.

Grab Floor Four and walk the haunted halls today!
Genres: