FOMO: Fear of missing out
Unabridged Audiobook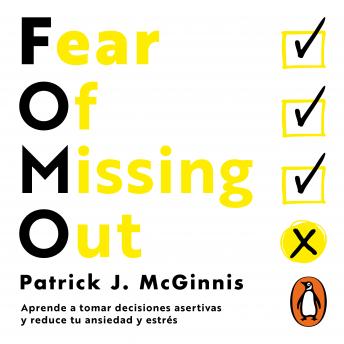 Duration:
6 hours 46 minutes
Language:
Spanish
Summary:
'Un libro indispensable que te ayudará a tomar decisiones enfocadas, acabar con la indecisión, reducir la ansiedad y utilizar tu tiempo de una mejor manera.' -Alex Torrenegra, emprendedor, inventor y empresario, juez de Shark Tank Colombia

Estás en casa un viernes por la noche, revisando Instagram, listo para ir a la cama. Ves fotos en tu timeline de una fiesta a la que te invitaron, pero a la que no fuiste. Estabas seguro cuando dijiste que no, pero ahora no puedes dejar de pensar en eso, y empiezas a sentirte peor. Tienes fomo o Fear Of Missing Out (miedo a perderte de algo). Acuñado en un artículo de la Escuela de Negocios de Harvard, fomo se ha convertido en un término global para describir la ansiedad que diezma cuando se piensa que otras personas están teniendo mejores y más satisfactorias experiencias que tú. Amplificado por el auge de las redes sociales, #FOMO se ha convertido en una crisis cultural, ¿cuál es la cura?

La solución es la toma de decisiones. Aprender a sopesar los costos y beneficios de tus elecciones, priorizarlas y escuchar tus instintos es fundamental para silenciar esta sensación de fomo y a su primo menos conocido: fobo o Fear Of a Better Option (miedo a una mejor opción). Después de todo, ¿a quién no le gustaría sentirse cómodo y confiado de sus decisiones? Escrito con autoevaluaciones a lo largo del libro, FOMO: Fear Of Missing Out te ayudará a determinar y eliminar las partes de tu vida que causan más ansiedad que felicidad y a decir no con seguridad y confianza.
Genres: