The Forgery of Venus
Unabridged Audiobook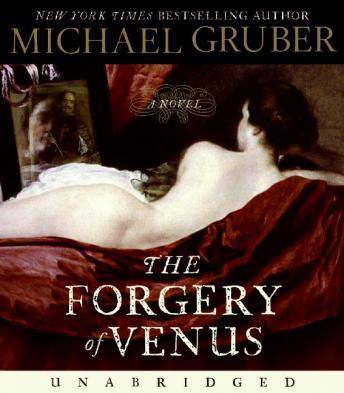 Duration:
10 hours 3 minutes
Summary:
Chaz Wilmot makes his living cranking out old-master parodies for ads and magazine covers. When he's offered a job restoring a Venetian palace fresco, he is at first, skeptical—he immediately sees it is more a forgery than a restoration. But he is soon seduced by the challenge and throws himself into the work, doing the job brilliantly.

This feat attracts the attention of Werner Krebs, a shady art dealer who becomes Wilmot's friend and patron. Wilmot is suddenly working with a fervor he hasn't felt in years, but without warning, he finds himself reliving moments from his past—not as memories but as if they are happening all over again. Soon, he believes he can travel back to the 17th century where he lived as the Spanish artist Diego Rodriguez de Silva Velazquez. Wilmot begins to fantasize that as Velazquez, he has created a masterpiece and when the painting actually turns up, he doesn't know if he painted it or if he imagined the whole thing.

Little by little, Wilmot enters a secret world of gangsters, greed and murder, with his mystery patron at the center of it all, either as the mastermind behind a plot to forge a painting worth hundred of millions, or as the man who will save Wilmot from obscurity and madness.

Miraculously inventive, this book cements Gruber's reputation as one of the most imaginative and gifted writers of our time.
Genres: