Fork Your Own Broncs
Unabridged Audiobook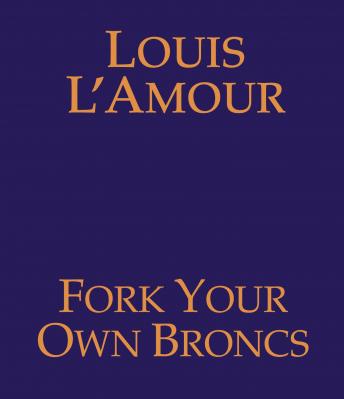 Duration:
1 hours 13 minutes
Summary:
Exciting Western Adventure From America's Best-Loved Storyteller

Louis L'Amour takes you back to the rough and tumble days of the Old West as you've never heard it before. A place with few rules--where men and women are inclined to make their own. Complete with a full cast, stirring music, and dramatic sound effects, this exclusive production of Fork Your Own Broncs sweeps listeners back to a time when men earned their living by the sweat of their brows, and depended on the land to do its part.

Fork Your Own Broncs

When Mac Marcy got it into his head to run his own cattle ranch, he spent five long years working for Ben Tanner at the Bar 7 to save up enough money to do just that. His dream finally realized, Mac stakes his claim on a deserted ranch in a nearby valley, and rides over to say hello to his new neighbors at the Flying K.

Thing is, Mac finds more than he bargained for in the owner's pretty daughter, Sally Kenyon, who seems eager to help him get started with his own place. What Mac hadn't counted on, though, was the jealous foreman at the Flying K, Vin Ricker, who had plans of his own where Sally and the Flying K were concerned.

And, as the hot summer wears on and the land becomes more and more parched, the hunt for fresh water becomes a burning issue between the two ranches. So hot, in fact, that what begins as a battle of wills between Vin and Mac quickly escalates from a gently smoldering anger to a roaring fire that threatens the future of both ranches.

Don't miss the other exciting dramatizations of Louis L'Amour's short stories!
Genres: