The Formation Code: Set in The Human Chronicles Universe
Unabridged Audiobook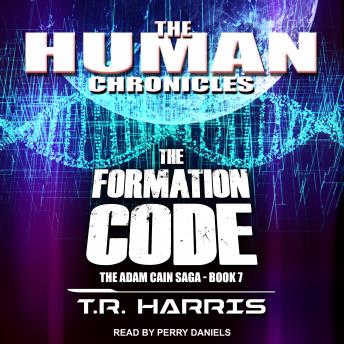 Duration:
4 hours 51 minutes
Summary:
What is the secret that The Formation holds? And why is it considered the greatest power in the universe? And how can a single disk be the key to everything? A disk only Adam Cain has in his possession.

They once thought dark energy was the ultimate power in the universe. They were mistaken. And now a desperate race is underway to be the first to discover how The Formation helped create life in the universe. But with the power to create life also comes the power to destroy it. This was power even the wise and ancient Aris knew was too great for them to possess. Now imagine what it could do in the hands of a mere mortal . . . such as Adam Cain.

But to be safe from ultimate power, one must first learn how to build it. Only at that crowning moment can the truly worthy do the right thing. The Aris lacked the will power to do what was right. Will Adam Cain . . . if he can break The Formation Code?

The Adam Cain Saga continues with the greatest story in the Human Chronicles series, where the stakes have never been higher. Can Adam and the mutants decipher The Code before it's too late? Or will the Formation change life as we know it . . . forever? It's done it before. Will it do it again?
Genres: