The Four-Day Win: How to End Your Diet War and Achieve Thinner Peace Four Days at a Time
Abridged Audiobook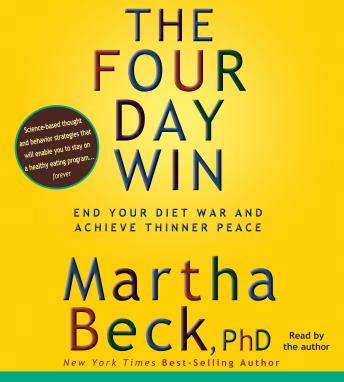 Duration:
5 hours 22 minutes
Summary:
Author of Oprah's Book Club Pick—The Way of Integrity: Finding the Path to Your True Self

The bestselling author of Finding Your Own North Star reveals how to change the way you eat, four days at a time!

Everyone knows how to lose weight: eat less, move more. But so many dieters who know what to do still don't do what they know. Why not? Because they don't understand the brain-body dynamics of weight loss. Now, cutting-edge research has revealed that millions of dieters following typical weight loss programs are actually programming themselves to get fatter.

In The Four-Day Win, Harvard-trained Oprah Magazine columnist Martha Beck, Ph.D., reverses this trend and teaches dieters to get lean from the brain outward. The Four-Day Win tells how to reverse the brain-body programming that makes you fat, so you can create a new, leaner and healthier body...for good.

As empathetic and funny as she is informative, Martha Beck observes that:
—Traditional dieting relies on the ability to go numb or to override physical and emotional feelings.
—Overeating is a self-calming compulsion similar to OCD -- dieters turn to food (and lots of it) when they're deprived of comfort.
—Overweight people can reverse the brain-body programming that is making them fat. Instead of attacking their bodies, they can learn to support them.

Dr. Beck helps you to think thin and end your compulsion to overeat, and includes a Jump-Start weight-loss program that will help you shed pounds in the best way, both psychologically and physically. An inspiring and enlightening challenge to everything you think you know about losing weight, The Four-Day Win provides you with an easy and fail-proof way to change your life.
Genres: