Four Umbrellas: A Couple's Journey Into Young-Onset Alzheimer's
Unabridged Audiobook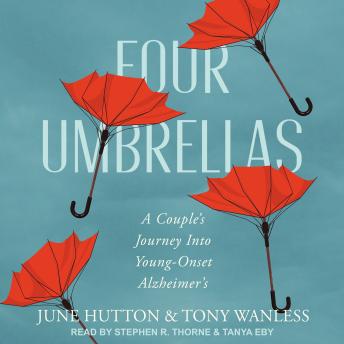 Duration:
5 hours 45 minutes
Summary:
A writing couple searches for answers when Alzheimer's causes one of them to lose the place where stories come from-memory.

At the age of fifty-three, Tony walks away from a life of journalism and into an unknown future dogged by self-doubt and financial worry. June is forty-eight years old then, a writer and a teacher, and over the following nine years she watches as her husband gradually changes-in interests, goals, and behavior-until Tony has a sudden fall, ending their life as they have known it.

While it will be another seven years before they receive a diagnosis of Alzheimer's, the signs of dementia are all around. A suitcase Tony packs for a trip contains four umbrellas jammed into every available space, a visual symbol of cognitive looping. But how far back do these signs go? The two of them begin looking, researching, and remembering-and make some surprising discoveries about Alzheimer's that lead to one undeniable conclusion: this is not an old person's disease.
Genres: