Fritz Lang: The Life and Legacy of the Influential German-American Film Legend
A free trial credit cannot be used on this title.
Unabridged Audiobook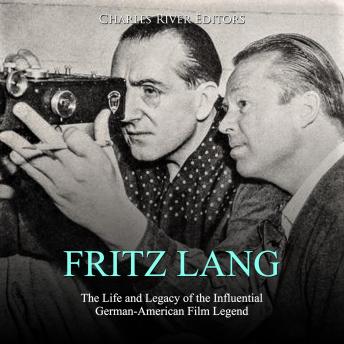 Duration:
1 hours 31 minutes
Summary:
While it's easily forgotten today, during the early 20th century, various European countries had vibrant film industries, and even though Hollywood had already staked its claim as the forerunner of the international cinematic landscape by the 1920s, national cinemas in Sweden, Germany, and elsewhere throughout Western Europe enjoyed great power during this period.

During that time, Germany's most renowned film directors were pioneering the genre known as Expressionism, and within it, Fritz Lang was known as the 'Master of Darkness.' Together with his eventual wife, Thea von Harbou, Lang wrote a number of acclaimed movies, including Dr. Mabuse the Gambler (1922), Die Nibelungen (1924), Metropolis (1927), and Woman in the Moon (1929).

Eventually, a number of Europe's biggest movie stars and directors came to Hollywood, such as Greta Garbo, Ingrid Bergman, and Alfred Hitchcock, but Lang's course to America came under far different circumstances. As Adolf Hitler rose to power and strengthened the Nazis' grip over Germany, the party's coarse antisemitism took root across all segments of society. As Jews were further persecuted, German Jews from all walks of life went into exile, and the loss of so many bright minds has led historians to the conclusion that the exodus could have made the difference in World War II.

Compelled to leave Germany, Lang made his way to Hollywood and quickly established himself there, leading to a career spanning 20 years. Continuing with the same themes as the ones he used in Germany, Lang helped establish noir as one of the most popular film genres of the 1950s in America, with influential works like Scarlett Street, and his most famous film, The Big Heat (1953).
Genres: