From Barcelona, with Love
Unabridged Audiobook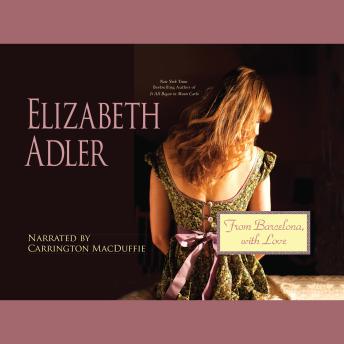 Duration:
10 hours 5 minutes
Summary:
From the Hollywood Hills to the streets of Barcelona, from lush vineyards and wineries to the most exclusive homes in Europe, let Elizabeth Adler take you on a journey with a story that will hold you spellbound.

Bibi Fortunata was the hottest ticket in town: singer, actress, and celebrity. Two years ago she was arrested on suspicion of murdering her lover and his new mistress, who was also Bibi's best friend.

Bibi was front-page news in a way her publicists had never dreamed of. But the police were never able to prove anything and she was set free, with the cloud of suspicion and murder still hanging over her. Bibi left for Barcelona where she quite simply disappeared.

But when Bibi's daughter comes to private investigators Mac Reilly and Sunny Alvarez for help, they can't resist the temptation to solve this mystery once and for all. Who really killed Bibi's lover? Who would want to frame Bibi? And who is beckoning them from Barcelona?

Filled with Adler's trademark lush descriptions, twisty plots, and decadent luxury, From Barcelona, with Love will transport you.
Genres: