From Midnight to Dawn: The Last Tracks of the Underground Railroad
Unabridged Audiobook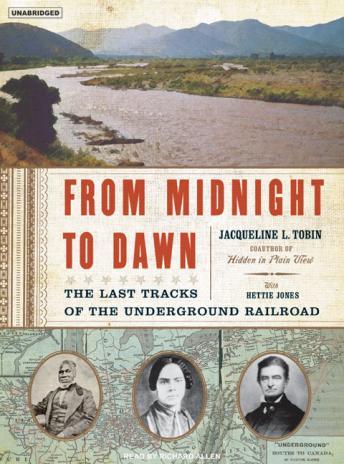 Duration:
10 hours 0 minutes
Summary:
The Underground Railroad was the passage to freedom for many slaves, but it was rife with dangers. While there were dedicated conductors and safe houses, there were also arduous nights in the mountains and days in threatening towns. For those who made it to Midnight, the code name given to Detroit, the Detroit River became their Jordan. And Canada became their 'land of Canaan,' the Promised Land where they could live freely in various black settlements under the protection of British law. One of these settlements was known as Dawn.

In prose rich in detail and imagery, From Midnight to Dawn presents compelling portraits of the men and women who established the Railroad and the people who traveled it to find new lives in Canada. Some of the figures are well known, like Harriet Tubman and John Brown. But there are equally heroic, less familiar figures here as well, like William Parker, who fought off a group of whites determined to reenslave him. Parker resettled in Canada, learned how to read and write, and recounted his story as a slave narrative.

From Midnight to Dawn evokes the turmoil and controversies of the time, including the furor over the publication of Uncle Tom's Cabin, congressional confrontations in Washington, and fierce disputes among black settlers in Canada over whether they should ask for money from abolitionists or strive to be self-supporting. An extraordinary examination of a part of American history, From Midnight to Dawn will captivate readers with its tales of hope and courage.
Genres: