Furry Paws: New Puppy Training Guide: Raising Your Puppy, The Right Way & How To Groom During Social Distancing!
A free trial credit cannot be used on this title.
Unabridged Audiobook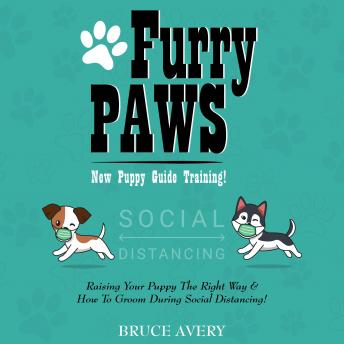 Duration:
1 hours 50 minutes
Summary:
According to the Centers for Disease Control and Prevention, knowing the precise source for the current Coronavirus disease outbreak in the year 2019 is still unknown; however, research has shown that it has originated from an animal. Most likely a bat of some kind. Still, the question must be asked, is there any evidence that animals can spread SARS-CoV-2 or any strain of the Coronavirus to people, such as our beloved furry friends? Or can we possibly spread the virus to them during close contact?

These days with the surge of the economic pandemic so many people are considering to bring a new bundle of joy into their home to help ease tension from the stress of being out of work, the ever-changing rules within employment, or the rules brought upon by the local county and state governments impacting our social engagement with others.

Puppies are one of life's biggest pleasures and are just the right touch to get our day started or to brighten it. Furry Paws will guide first-time puppy owners or even existing pet owners on how to properly house-train their puppy during this unique time of social distancing.

Furry Paws has everything you need to manage social distancing with your puppy, from bringing them home for the first time, selecting the proper diet, gathering the best gear for all budget types, fast and straightforward potty training, easy crate training techniques to essential puppy grooming and play-time techniques.

See how easy it can be to have Furry Paws providing love, joy, and much-needed exercise in your life or as an excellent gift for anyone!
Genres: