The Gathering Wind: Hurricane Sandy, the Sailing Ship Bounty, and a Courageous Rescue at Sea
Unabridged Audiobook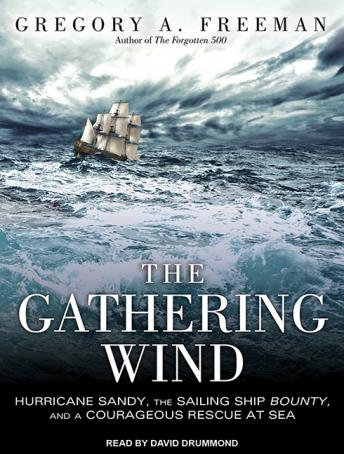 Duration:
10 hours 19 minutes
Summary:
In October 2012, a replica of the famous HMS Bounty, an eighteenth-century tall sailing ship, was on a collision course with a storm that would become the largest hurricane ever recorded in the Atlantic-a clash that would prove dramatic, tragic, perplexing, and ultimately one of the most unforgettable stories of Superstorm Sandy.

Crewed by an eclectic team of seafarers, the Bounty was led by Robin Walbridge, their highly respected captain with decades at the helm, whose actions-sometimes questionable-decided the fate of his ship and crew.

Departing from Connecticut as the storm raced northward from the Caribbean, Walbridge attempted to outmaneuver Sandy, heading the Bounty southeast. As violent gusts tossed the wooden ship, the crew fought to save their beloved Bounty-and finally to save themselves. When waves, wind, and encroaching water finally overtook the ship in an area known as the Graveyard of the Atlantic, the crew was suddenly tossed into the churning sea. The Bounty was gone, but their fate was still to be determined.

The men and women of a Coast Guard station in North Carolina summoned the courage to fly into hundred-mile-per-hour winds while the residents of the Eastern Seaboard were fleeing or bracing for the hurricane's impact. Through hours of white-knuckle flying, with crew members thrown about their aircraft and rescue swimmers jumping into thirty-foot seas, the Coast Guard accomplished one of its most memorable rescues ever.

Based on interviews with Bounty survivors and unfettered access to Coast Guard rescue team members, The Gathering Wind offers not only the first but the most complete account of this heartbreaking, thrilling, and inspirational story.
Genres: