Gehrig and The Babe: The Friendship and the Feud
Unabridged Audiobook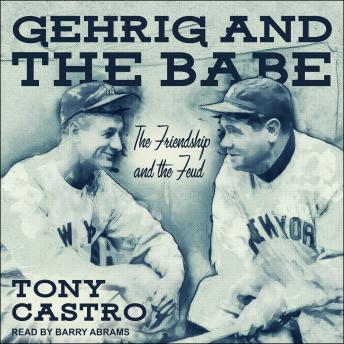 Duration:
7 hours 53 minutes
Summary:
Gehrig & The Babe: The Friendship and The Feud is the emotionally gripping, electrifying account of the relationship of legendary New York Yankee icons Lou Gehrig and Babe Ruth and the tragic behind-the-scenes fight that bitterly tore them apart until Gehrig was dying of a horrific disease.

Written by historian and best-selling author Tony Castro, this critically acclaimed book tells their remarkable story that has often been lost between the pages of individual biographies of the American icons but here is explored in such scope and detail that the Wall Street Journal called Gehrig & The Babe '. . . the 'Butch Cassidy and The Sundance Kid' of baseball.' ESPN's Jeremy Schaap called Gehrig & The Babe 'a fascinating story told in full really for the first time, seventy-plus years after their death.'

Tony Castro, whose Mickey Mantle: America's Prodigal Son has been hailed by the New York Times as the definitive biography of the Hall of Fame legend, worked almost a decade on Gehrig & The Babe, interviewing hundreds of their surviving former teammates, associates, and friends while also extensively researching their lives in New York, Baltimore, Boston, and Los Angeles as well as studying years of newspaper accounts of the era in which they played.
Genres: