Gesicht des Wahnsinns (Ein Zoe Prime Fall — Buch 4)
A free trial credit cannot be used on this title.
Unabridged Audiobook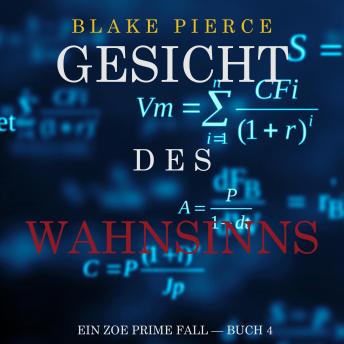 Duration:
9 hours 17 minutes
Language:
German
Summary:
"EIN MEISTERWERK AN MYSTERYTHRILLER. Blake Pierce hat es geschafft, seine Charaktere so real zu beschreiben, dass wir mit ihnen fühlen, ihren Ängsten folgen und ihren Erfolg bejubeln können. Damit hat er großartige Arbeit geleistet. Dieses Buch voller unerwarteter Wendungen wird Sie bis zur letzten Seite in Atem halten."
--Books and Movie Reviews, Roberto Mattos (re Verschwunden)

GESICHT DES WAHNSINNS ist Buch Nr. 4 einer neuen FBI-Thriller-Serie des Bestsellerautors Blake Pierce (USA Today), dessen Bestseller "Verschwunden" (Buch Nr. 1) (erhältlich als kostenloser Download) über 1.000 Fünf-Sterne-Rezensionen erhalten hat.

FBI Special Agent Zoe Prime leidet an einer seltenen Krankheit, die ihr ein einzigartiges Talent verleiht – für sie besteht die ganze Welt aus Zahlen. Diese Zahlen quälen sie, machen es ihr schwer mit anderen Menschen zu kommunizieren und erschweren zusätzlich auch noch ihr Liebesleben - und doch erlauben sie es ihr, Muster zu erkennen, die kein anderer FBI-Agent sehen kann. Zoe hält ihre Verfassung geheim und hat Angst davor, dass ihre Kollegen es herausfinden könnten.

In GESICHT DES WAHNSINNS hat es ein grausamer Serienmörder auf die Frauen in Special Agent Zoe Primes Heimatstaat Nebraska abgesehen. Seine Methoden, erinnern an die von Ted Bundy. Zoe kann zwar alle Zahlen erkennen, aber zum ersten Mal in ihrem Job hilft ihr das nicht weiter. Dieser Mörder scheint von menschlichen und sozialen Gründen getrieben - etwas, das Zoe nur schwer verstehen kann.

Ist dies der Fall, der sie an ihre Grenzen führt?

Oder steckt doch ein Muster hinter allem? Sogar hinter sozialen Interaktionen?

Während Zoe gegen ihre eigenen Dämonen kämpft, wird die Entscheidung, ihre Familie zu besuchen (eine katastrophale Entscheidung) die sein, die ihren Zusammenbruch bedeutet?

GESICHT DES WAHNSINNS ist der vierte Teil einer fesselnden neuen Buchreihe, ein actiongeladener psychologischer Thriller, der so spannend ist, dass Sie ihn gar nicht mehr weglegen wollen.
Genres: