Get Over Yourself: The Ultimate Guide on How to Overcome Self-Doubt, Learn Effective Strategies on How to Kick Your Insecurities to the Curb and Be More Confident with Yourself
Unabridged Audiobook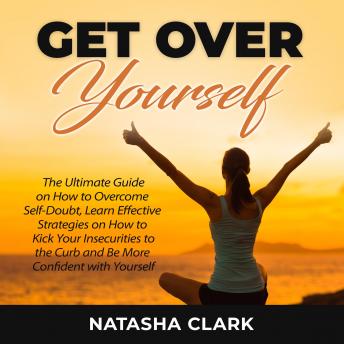 Duration:
0 hours 14 minutes
Summary:
Get Over Yourself: The Ultimate Guide on How to Overcome Self-Doubt, Learn Effective Strategies on How to Kick Your Insecurities to the Curb and Be More Confident with Yourself

One of the hardest things some people ever have to do is to transform themselves from a person full of self-doubt to a self-assured person that believes in themselves. But, the truth is that no matter where you are in life right now, no matter how many mistakes you've made, opportunities you've passed up, or what's happened to you in life, you can overcome your self-doubt and start believing in yourself. This is true even if you had a poor upbringing and even if you've never believed in yourself before. It's within your power, and it will change your life completely

This audiobook will teach you how you can finally overcome your insecurities and self-doubt and start to believe more in yourself. You will learn effective ways on how to build your self-image and become a more self-assured person.

This audiobook will discuss the following topics:

- What is Self-Doubt

- The Dangers of Self-Doubt and How it Affects Your Life

- How to Identify Where Your Self-Doubt Lies

- Reasons to Believe in Yourself

- How to Overcome Negative Thoughts

- Strategies for Dealing with Self-Doubt

- What to Do

- And Many more!

Be assured that even the most successful person works to overcome self-doubt at times. Feeling self-doubt is not the problem. Letting self-doubt control you and make decisions for you is the real problem. If you really want to overcome self-doubt and start believing in yourself, download this audiobook today. Scroll up and click "add to cart" now!
Genres: