Get with the Program: Getting Real About Your Weight, Health, and Emotional Well-Being
Abridged Audiobook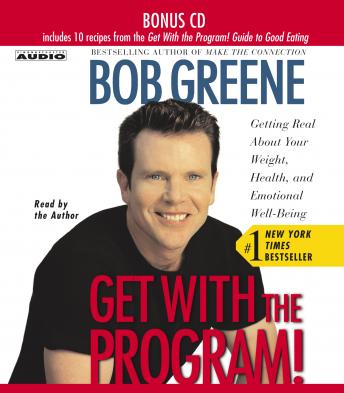 Duration:
2 hours 1 minutes
Summary:
WE ALL KNOW THAT LOSING WEIGHT IS THE EASY PART.
It¹s keeping the weight off that¹s hard. In Get with the Program! Bob Greene gives you the keys to losing weight and staying fit for a lifetime.
The four-phase plan in Get with the Program! is like having your own personal trainer take you through the psychological, physical, and emotional challenges that are keeping you from weight-loss success. There are no arbitrary deadlines here: you move forward at your own pace, making lifestyle and dietary deadlines and increasing the intensity level of your exercise when it¹s right for you to do so.
In Phase One, you¹ll make the commitment to yourself to Get with the Program, and change the way you think about diet and exercise. Phase Two will show you how to rev up your metabolism using aerobic exercise. In Phase Three you¹ll take control of emotional eating, the eating you do to satisfy your emotional, not physical, hunger. You¹ll also see the positive results of your efforts. Phase Four is all about building muscle, making sure you¹re making the best food choices, and making your new habits of health, activity, and good eating a continuing lifestyle.
Get with the Program! is full of anecdotes and stories of women and men who met their personal goals, further helping to inspire you to move on to the next level of health and fitness.
Genres: