A Gift Of Sanctuary: (The Owen Archer Mysteries: book VI): an engrossing Medieval mystery that will sweep you back in time and have you gripped…
Unabridged Audiobook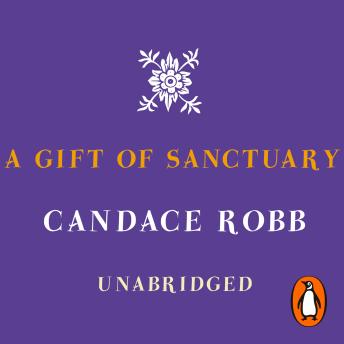 Duration:
9 hours 51 minutes
Summary:
Political skullduggery, passion and ambition clash in this intriguing, evocative and compelling novel by much loved author Candace Robb. Vividly conjuring up the medieval world, it's the perfect treat for fans of Ellis Peters, S J Parris, Conn Iggulden and Bernard Cornwell.

'Robb deftly interweaves a complex story of love, passion and murder into the troubled and tangled fabric of Welsh history, fashioning a rich and satisfying novel' -- Publishers Weekly
'This compelling historical mystery lives up to the standard set by the master medievalist Ellis Peters' -- Booklist
'Entertaining and informative' -- ***** Reader review
'A must-read' -- ***** Reader review
'Very exciting and captivating' -- ***** Reader review
'Superb' -- ***** Reader review

***********************************************************************************
POLITICS, PASSION AND AMBITION COMBINE WITH MURDEROUS RESULTS...

1369: a pilgrimage wends its way to the sacred city of St David's. Owen Archer, ex-soldier and sometime spy, accompanies the party to recruit archers for the Duke of Lancaster, who prepares to fight the French. But he and Geoffrey Chaucer have another, covert, mission: to ascertain whether the Duke's steward at Cydweli is betraying him to Welsh rebels.

Trouble precedes them: a body in the Duke's livery is left at the city gates. And when Owen rides on to Cydweli he finds the household of the steward and his beautiful young wife rocked by the theft of money from the exchequer and riven by tension, culminating in another violent attack.

He must work fast to investigate charges of treachery, infidelity and murder if he is to prevent further deaths.
Genres: