The Girl in the Green Sweater: A Life in Holocaust's Shadow
Unabridged Audiobook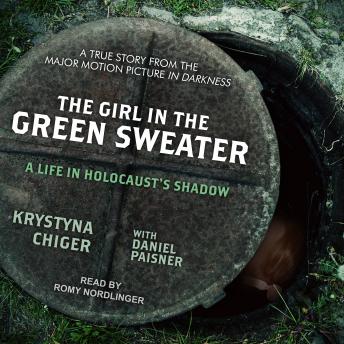 Duration:
9 hours 13 minutes
Summary:
The true story from the major motion picture In Darkness, official 2012 Academy Award nominee for Best Foreign Language Film.

In 1943, with Lvov's 150,000 Jews having been exiled, killed, or forced into ghettos and facing extermination, a group of Polish Jews daringly sought refuge in the city's sewer system. The last surviving member this group, Krystyna Chiger, shares one of the most intimate, harrowing, and ultimately triumphant tales of survival to emerge from the Holocaust. The Girl in the Green Sweater is Chiger's harrowing first-person account of the fourteen months she spent with her family in the fetid, underground sewers of Lvov.

The Girl in the Green Sweater is also the story of Leopold Socha, the group's unlikely savior. A Polish Catholic and former thief, Socha risked his life to help Chiger's underground family survive, bringing them food, medicine, and supplies. A moving memoir of a desperate escape and life under unimaginable circumstances, The Girl in the Green Sweater is ultimately a tale of intimate survival, friendship, and redemption.
Genres: