Giving 2.0: Transform Your Giving and Our World
Unabridged Audiobook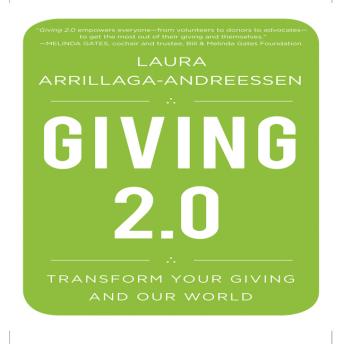 Duration:
10 hours 33 minutes
Summary:
A philanthropist is anyone who gives anything-time, money, experience, skills, and networks-in any amount to create a betterworld.
Every day millions of ordinary people exhibit extraordinary generosity. Regardless of age, income, religion, and beliefs, we want to touch the lives of others. Yet philanthropy is often reactive-we write checks when natural disasters strike, we give to our schools and places of worship, or we support friends running a marathon for a cure. How can we transform these occasional acts of giving into consistent generosity that creates enduring impact? Moreover, how can we harness the most exciting opportunities that the 21st century offers with the power of technology, collaboration, and entrepreneurship?

With so many new ways to give, selecting the strategy and organizations that best match your own philanthropic goals can be a daunting task. Giving 2.0 shows how to navigate these oceans of possibilities, empowering you to move from reactive to proactive. No matter what, when, and why you give, Giving 2.0 is the ultimate resource to guide your giving journey.

Based on her wide-ranging experience as a philanthropist, educator, and social innovator, Laura Arrillaga-Andreessen shares the most effective strategies she herself pilots. Through dozens of real-world stories, Giving 2.0 shows how everyone can find innovative and powerful methods to give their time, money, and expertise-whether volunteering and fundraising, leveraging technology and social media, creating social innovation. or starting a giving circle, fund, foundation, nonprofit, or advocacy group.

Accessible, practical, and deeply personal, Giving 2.0 shows how individual contributions-of every size-go further when we bring both our hearts and our minds to philanthropy to reach our fullest potential. Ultimately, Giving 2.0 is an indispensable tool for everyone aspiring to create social impact, transmit giving values to their children, and find long-lasting meaning from generosity.
Genres: