The God I Love: A Lifetime of Walking with Jesus
Unabridged Audiobook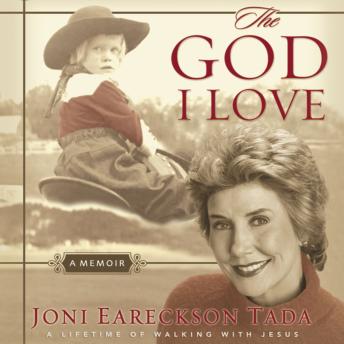 Duration:
13 hours 59 minutes
Summary:
A little girl on a big horse, cantering across a spring-green pasture . . . wide-eyed children gathered 'round a beach fire, listening to a father's stories of the high seas . . . an expansive, you-can-see-forever view from the top of Pike's Peak . . . another view from a Stryker frame, where an active young woman learns she will never walk again . . . heading down a church aisle to marry the man she loves . . . looking into the eyes of a child in a wheelchair, and seeing the family God has prepared for a loving heart . . . sitting by the pool of Bethesda, reflecting on the miracle of healing God has performed in her heart . . .

The God I Love brings to life these and many other moments. It offers an eternal perspective from a woman in a wheelchair who affirms that the God she knows and loves is the center, the peacemaker, the passport to adventure, the joy ride, and the answer to her deepest longings. Raised in an active, adventurous family, Joni Eareckson Tada worked hard and played hard to keep up with her older sisters and athletic father--until one day a diving accident left her a quadriplegic. But the tragedy that could have ended her life was in reality the beginning of an amazing, constantly unfolding story of grace that has touched the lives of millions worldwide and brought Joni unexpected joy and fulfillment.

In this book, Joni unveils the God whom she has found to be faithful through over thirty years as a paralytic. This is not the story of a woman who has all the answers or who is very different from you. Joni struggles with the same fears, questions, and heartaches we all have in common. But as the weeks and months turn into years, and the years into decades, she meets her Savior at every turn.

In this book, you'll discover that he is there for you as well, no matter what your circumstance or situation may be. Written with beauty, feeling, and amazing honesty, The God I Love captures the heart and soul of one woman's powerful, deeply personal journey of hope. It is a sojourn from a naïve child's belief to a tempered faith that transforms and transcends personal tragedy, bringing light to the darkest places and good out of the most difficult situations, and offering glimpses of the glory that awaits God's children.
Genres: