The Golden Blade: The Bizarre Blades, Book 2
A free trial credit cannot be used on this title.
Unabridged Audiobook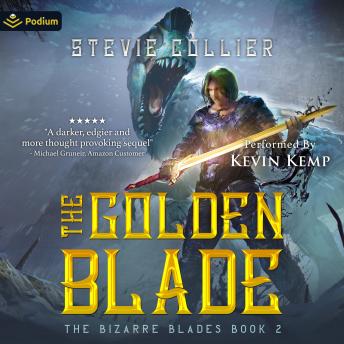 Duration:
11 hours 37 minutes
Summary:
A sword of unimaginable power. A hero in need of a miracle. Can he find the mythical blade in time to save his father?

Finn Featherstone never thought that owning a Bizarre Blade would cause this much trouble. After barely controlling his stubborn weapon long enough to rescue his fellow Champions, he's unsure if his dream of glory is worth the challenge. But when a tyrannical king vows to hunt the hero down, Finn never imagined the enemy would kidnap his father.

With an execution looming, Finn vows to find the fabled Golden Blade to rescue his family. But it'll take more than courage to survive pirate-infested waters, angry cyclopes, and gargantuan dinosaurs. And if he and his crew somehow make it to their destination alive, he'll still have to solve an ancient and deadly trial to prove his worth.

Can Finn find the inner strength to retrieve the blade and defeat a vicious king?

The Golden Blade is the second book in the delightfully original Bizarre Blades sword and sorcery fantasy series. If you like unlikely heroes, off-the-wall magic, and prehistoric monsters, then you'll love Stevie Collier's thrilling tale.
Genres: