The Golden Thirteen: Recollections of the First Black Naval Officers
Unabridged Audiobook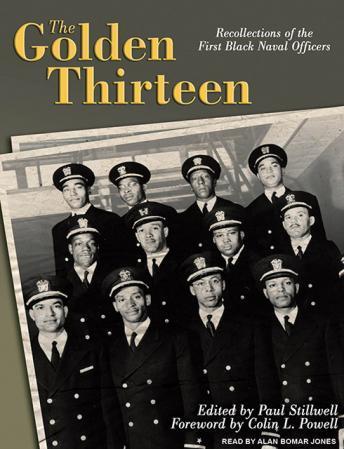 Duration:
8 hours 30 minutes
Summary:
In January 1944, sixteen black enlisted men gathered at the Great Lakes Naval Training Station in Illinois to begin a cram course that would turn them into the U.S. Navy's first African American officers on active duty. The men believed that if they failed they would set back the course of racial justice, so they banded together and all sixteen passed the course. Twelve were commissioned as ensigns and a thirteenth was made a warrant officer.

Years later, these pioneers came to be known as the Golden Thirteen, but at the outset they were treated more as pariahs than pioneers. Often denied the privileges and respect routinely accorded white naval officers, they were given menial assignments unworthy of their abilities and training. Yet despite this discrimination, these inspirational young men broke new ground and opened the door for generations to come.

In 1986, oral historian Paul Stillwell began recording the memories of the surviving members of the Golden Thirteen. He also interviewed three white officers who served with and supported the efforts of these men during World War II. This book collects their stories.
Genres: