Goodbye to Shy
Unabridged Audiobook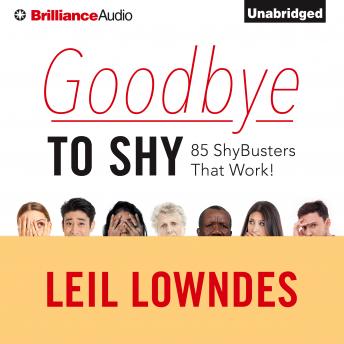 Duration:
6 hours 35 minutes
Summary:
Say hello to new friends, new business opportunities, new love, and new confidence

Okay, so you're shy. Here are 85 proven techniques to help you conquer your shyness and change your life for good. No psychobabble. No nonsense. These tested 'ShyBusters' prepare you for that upcoming party, work function, interview, date, and the rest of your life.

As someone who overcame debilitating shyness herself, professional speaker Leil Lowndes used this method to become a confident woman who has been interviewed on hundreds of TV and radio shows and has spoken to crowds of 10,000. You'll soon be making 'fearless conversation' with people who used to intimidate you. You'll learn how to win the love you deserve and ask for whatever you want. You will overcome embarrassing stammering, sweating, clamming up, and wishing you were invisible.

Goodbye to Shy will show you how to:

• Make a stronger impression at work, at parties, in any situation
• Feel more relaxed around people, make eye contact, and spark conversations
• Boost your career, jump-start your social life, and open your heart to new possibilitiesSay goodbye to shy-and hello to the happy, loving, confident person who's been hiding inside you.
Genres: