Gotti's Boys: The Mafia Crew That Killed For John Gotti
Unabridged Audiobook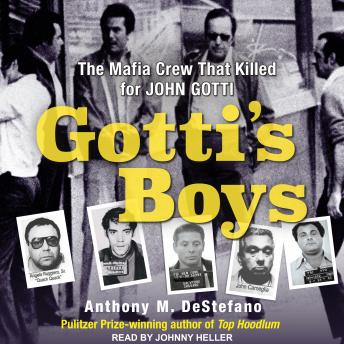 Duration:
7 hours 40 minutes
Summary:
Pulitzer Prize-winning journalist Anthony M. DeStefano takes you inside John Gotti's inner circle to reveal the dark hearts and violent deeds of the most remorseless and cold-blooded characters in organized crime. Men so vicious even the other Mafia families were terrified of them. Meet Gotti's Boys . . .

- Charles Carneglia: the ruthless junkyard dog who allegedly disposed of bodies for the mob-by dissolving them in acid then displaying their jewels.

- Gene Gotti: the younger Gotti brother who ran a multimillion-dollar drug smuggling ring-enraging his bosses in the Gambino family.

- Angelo 'Quack-Quack' Ruggiero: the loose-lipped contract killer who was wire-tapped by the FBI-and dared to insult Gotti behind his back.

- Tony 'Roach' Rampino: the hardcore stoner who looked like a cockroach-and used his gangly arms and horror-mask face to frighten his enemies.

- 'Sammy the Bull' Gravano: the Gambino underboss who helped John Gotti execute Gambino mob boss Paul Castellano-then sang like a canary to take Gotti down.

Contains mature themes.
Genres: