GOVERNMENT TENDERS (DON'T) SUCK!
Unabridged Audiobook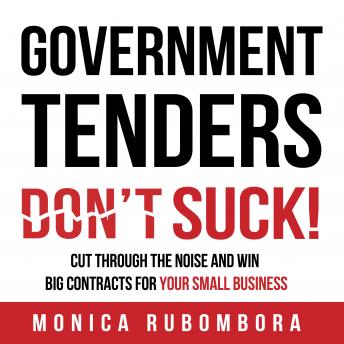 Duration:
3 hours 46 minutes
Summary:
The Definitive Guide to Doing Business with the Government.
Winning a Government contract can be incredibly lucrative for a small business, but responding to Government Requests for Proposals can leave you feeling frustrated, confused, and overwhelmed due to its level of complexity.
The Government is the biggest buyer of goods and services in the world. But did you know that many Government Contracts are won way before they are ever published?
Author, Monica Rubombora, brings over two decades of an insider's view of the Government Contracting business. She has served as a Deputy Director-General in the South African Civil Service and a Managing Director in the Public Sector business of Accenture. Today she runs her own management and technology consulting company, with Government as an anchor client.
Based on her deep understanding of the challenges that face many small businesses, Rubombora wrote this book to help small businesses navigate these complexities so they can win more government contracts.
Government Tenders Don't Suck! is a no-nonsense playbook for the overwhelmed small business owner who wants to navigate the complicated government tendering process and win.
It has been designed to help you-the "little gal and guy" to:
* Avoid common pitfalls and make the most of your business understanding, skills, and experience to win profitable Government Contracts;
* Compete for business through meaningful written responses to solicitations from potential government clients;
* Figure out how to respond to government tenders without losing your mind, even when your resources are constrained; and
* Manage tender response operations on shoestring budgets through time-saving tools and templates you can rinse and reuse.
As a small business owner or manager, this may be the most important book you read this year. Imagine how winning a single Government contract would impact your business!
Download 'Government Tenders Don't Suck' now!
Genres: